What's in the programme?
How will it help me and my child?
A vision of the future
Read reviews from parents and educators
Colin Rose and
Accelerated
Learning
For pre-schoolers 2-6
To LOGIN
To BUY ACCESS
at £1.95
Your login details will be emailed to you.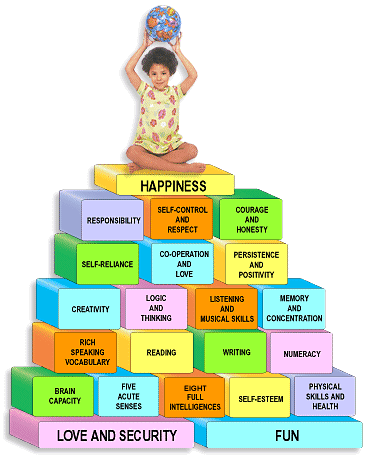 The underpinning foundations of the pyramid are the love, security and fun that you provide for your child.
The pyramid blocks are then built up step by step on those foundations.
Click on the blocks to see how they contribute to a happy, loving, rounded child, and how First FUNdamentals Online helps you develop all of them.
THE
PYRAMID
OF
HAPPINESS
FIRST
FUNDAMENTALS
ONLINE
from
---
First FUNdamentals is a programme from Accelerated Learning Systems Ltd
12 The Vale, Southern Road, Aylesbury, Bucks HP19 9EW, UK
Call 0800 279 7740 or +44 (0)1296 631177
Email: sales@acceleratedlearning.com